The Great Resignation
KEY TAKEAWAYS
Empower employees and embrace flexibility
Turn insights into action
Treat employees as "Ambassadors"
Drive empathetic leadership
Move towards The Great Retention
WHAT IS THE GREAT RESIGNATION?
The Great Resignation is the name given to a mass wave of resignations that started in the USA in 2021 and which have since spread around the world2. The Great Resignation has been compared to a global general strike: a mass movement of employees withdrawing their labor from jobs that provide inadequate wages, unsatisfactory working conditions and a poor work-life balance3. More than 40% of all employees were thinking about leaving their jobs at the beginning of 2021, and as the year went on, workers quit in unprecedented numbers4.
An in-depth analysis of over 9 million employees across 4,000 companies (all sectors) showed mid-career employees "between 30 and 45 years old have had the greatest increase in resignation rates, with an average increase of more than 20% between 2020 and 2021"5.
Between April and September 2021, more than 24 million American employees left their jobs6. Business leaders are struggling to make sense of the factors driving the mass exodus while, at the same time, looking for ways to hold on to valued employees7.
In the UK, a recent survey of healthcare professionals found that half of those who responded plan to work fewer hours, with a further 21% considering leaving the National Health Service (NHS) completely. The number of doctors planning to take early retirement is also on the rise8.
WHY IS IT HAPPENING?
Since 2020, millennials born between 1975- 1995 have begun to dominate Baby Boomers and Generation X in the workforce. This group embodies a shift from traditional work (or profession) status markers with a desire for more development, balance, flexibility, leisure time and vacation time away from work.
Departing employees often have a long-standing need for freedom and flexibility from the traditional work model, with a desire towards meaning, elasticity and social contribution in their roles.
Additionally, individual mental health and well-being is now of primary concern. Resignations were accelerated by the global COVID-19 pandemic, and associated decisions made by businesses (including layoffs). Depending on the source, the reasons for The Great Resignation are multiple and varied. These include9-15:
Toxic culture and burnout
A toxic corporate culture is by far the strongest predictor of industry-adjusted attrition and is 10 times more important than compensation in predicting turnover. Leading elements contributing to toxic cultures include: a failure to promote diversity, equity and inclusion; workers feeling disrespected; and unethical behavior.
Lack of engagement
Disengagement is costly – lost productivity of not engaged and actively disengaged employees is equal to 18% of their annual salary. It costs $9,000 a year to keep each disengaged worker and between $25,000 and $100,000 to replace them.
It costs $9,000 a year to keep each disengaged worker and between $25,000 – $100,000 to replace them.
Reluctance to return (remote working)
While remote and hybrid working models were already beginning to gain popularity pre-pandemic, the pandemic certainly accelerated this new working trend. An increasing number of the global workplace now expects to work from home moving forward. After having worked from home for nearly two years, with all the freedom, flexibility and autonomy that entails, many people are now being asked (or forced) to return to the office – and many are finding themselves reluctant to give up their newfound work-life balance.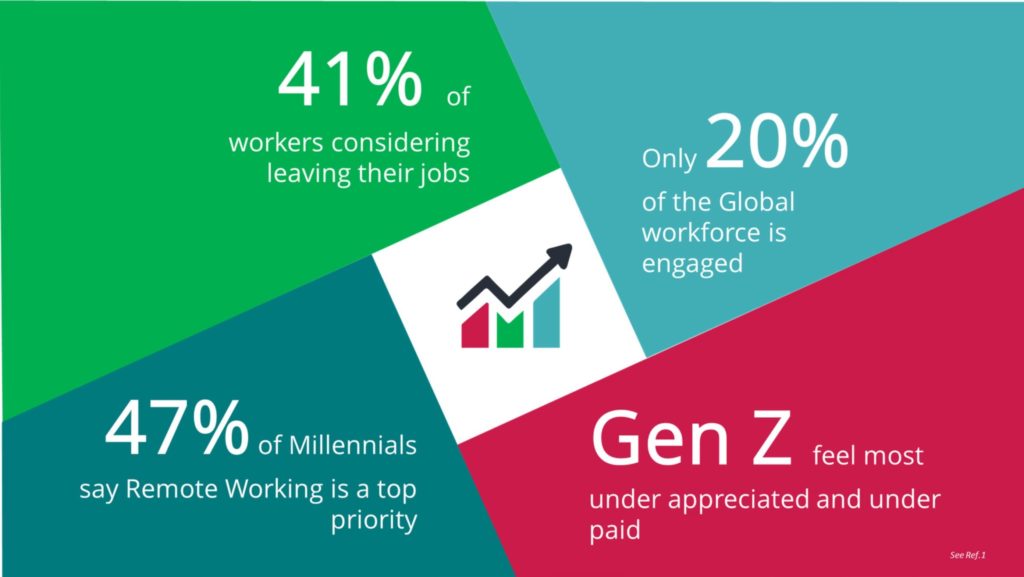 Low pay or benefits
With inflation and the cost of living on the rise, dissatisfaction with their pay was a major reason for employees handing in their notice.
Poor work-life balance
76% of workers want more flexibility about where they work – 93% want greater flexibility in when they work. Behind the desire for flexibility is a desire to recalibrate the relationship between personal and work lives.
Failure to recognize performance
Employees are more likely to leave companies that fail to acknowledge high performers when it comes to recognition and rewards.
Poor response to COVID-19
Employees who mentioned COVID-19 more frequently in their reviews or talked about their company's response to the pandemic in negative terms were more likely to quit.
WHAT THIS MEANS
Moving towards The Great Retention
The Great Resignation has major consequences in the form of corporate knowledge retention. When employees leave a company, the immense knowledge and experience within them also leaves.
This know-how spans the institution, the industry sector, suppliers and clients. Knowledge retention is a critical strategic resource and the basis for a sustainable competitive advantage.
WHAT TO DO ABOUT IT
The potential solutions for The Great Resignation are also multiple and diverse and include2,16:
Get the basics right
Hybrid working
Empower workers
Embrace flexibility
Old-School Perks
New Generation Perks
Rethink attitudes to workers
Simple solutions include managing a "stay conversation," whereby soliciting feedback from your employees, including open- ended questions that allow them to speak candidly and share their thoughts. Then, to close the loop, employers must quickly turn insights into action and demonstrate addressing employee concerns rapidly – or risk hearing about them again in exit interviews.
Additionally, being transparent with your company's purpose and communicating with passion gives your team a clear and consistent message to rally around. Companies can rarely overcommunicate during times of rapid change.
Finally, companies need to equip and treat employees as "Ambassadors" of their organizations to find and recruit top talent. Managers must also drive empathetic leadership to keep employees feeling more valued, leveraging small moments to connect and support beyond the tasks at hand.
Companies can rarely overcommunicate during times of rapid change.
AUDIT AND IMPACT
A successful knowledge retention program needs to be in place to capture and retain knowledge 16:
Knowledge Audit
This is required to identify critical knowledge.
Selection of strategies and tactics
Choosing these carefully will make knowledge accessible and engaging.
Measure the impact
A suitable plan is necessary to benchmark and track the impact of knowledge retention and application.
CROSSOVER'S PERSPECTIVE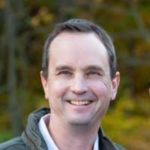 "People are taking a step back and re-examining where they are financially, where they are at this point in their life, and figuring out what they really need."
— Dan Long, Vice President of Operations, Crossover Solutions
"We feel that there is not one single initiative to solve the gap created by the Great Resignation. This opportunity requires new skills in managing accountability, conflict management and effective communications to connect with teams, onsite or working remotely. It requires a combination of structural changes, process improvements, people and HR strategies, with cultural changes and leadership."
— David Worrall, Talent Sourcing Specialist, Crossover Solutions
"You always need more hands on deck during a product or program launch. Outsourcing talent is a concept that allows companies to shift necessary launch support from fixed to variable costs strategically. This approach is exceptionally valuable during a time when experienced resources are critical to success and mitigate undue risk to the existing business."
— Rod MacIntyre, COO and Managing Partner, Crossover Solutions
OUR OFFER
For the specific issues detailed in this White Paper, Crossover Solutions can offer the following actions and programming to your organization:
Culture Change strategies
Re-Engagement and Re-Configuration
Employee Council strategies
Knowledge Management, Auditing and Retention
Strategic Analysis
Mentoring and Coaching
Interim Management
Skilled Trades Augmentation
Every Cross-Function – Shop Floor to C-Suite.
NEXT STEPS
Prevent change from becoming a risk to your business' livelihood with a call to the team at Crossover Solutions. Our approach is custom-tailored to your unique situation. Whether you are in a performance decline (crisis) or strategically planning for future programs, our proven methodologies tactically deal with what is necessary for an efficient and effective way forward.
We look to deal with first things first and define exit criteria and strategies right up- front.
STABILIZE | ANALYZE | REPOSITION | STRENGTHEN | SUSTAIN
There are no egos within our team. We are experts at assessing, understanding, and solving problems from the "top-down and bottom-up"—from Management to Operations to Supply Chain. We act and deeply engage to proficiently deal with:
Complete Business Transformations • Management and Leadership Support
Operational Turnarounds / Performance Improvement
Technical & Skilled Challenges
There's no better time to start than now.
CROSSOVER STATISTICS
We are proud to work with global C-Suite and Board Executives, Directors, Fund Managers and General Management professionals who require critical advisory services. Extremely agile with a breadth of experience in different industries (automotive, aerospace, pharmaceutical, food and beverage, pulp and paper, medical device, and consumer goods industries), we believe your success is our success.
$7.5 Billion
We have mitigated losses of over $7.5 Billion for our clients.
30-60 days
Results of performance enhancements are typically seen within 30-60 days.
70%
We have worked with over 70% of the top 100 tier-one automotive companies.
30 years
Direct Associates have on average 25-30 years of experience.
ACKNOWLEDGEMENTS
We would like to thank Michael Forhan, Rod MacIntyre, Dan Long, David Worrall and Doug Bancroft for their assistance with this White Paper.
REFERENCES
1. Muller J. 11 Shocking Statistics on the Great Resignation [Internet]. Ergonomic Trends. 2021 [cited 2022 Mar 21]. Available from: https://ergonomictrends.com/great-resignation-statistics/
2. Fear C. The Great Resignation: Why It's Happening and What You Can Do About It [Internet]. ICS Learn. 2022 [cited 2022 Mar 28]. Available from: https://www.icslearn.co.uk/blog/posts/2022/february/the-great-resignation-why-it-s-happening-and-what-you-can-do-about-it/
3. Lichtenstein N. Are we witnessing a "General Strike" in our own time?. Washington Post [Internet]. 2021 [cited 2022 Mar 25]; Available from: https://www.washingtonpost.com/outlook/2021/11/18/are-we-witnessing-general-strike-our-own-time/
4. Microsoft. The Next Great Disruption Is Hybrid Work -Are We Ready? [Internet]. 2021 [cited 2022 Mar 28]. Available from: https://ms-worklab.azureedge.net/files/reports/hybridWork/pdf/2021_Microsoft_WTI_Report_March.pdf
5. Cook I. Who Is Driving the Great Resignation? [Internet]. Harvard Business Review. 2021 [cited 2022 Mar 24]. Available from: https://hbr.org/2021/09/who-is-driving-the-great-resignation
6. Pitt S. The No. 1 reason people quit jobs during the Great Resignation, according to MIT research — and it's not pay [Internet]. Grow from Acorns + CNBC. 2022 [cited 2022 Mar 17]. Available from: https://grow.acorns.com/great-resignation-mit-findings-why-workers-quit
7. World Economic Forum. Strategic Intelligence | World Economic Forum [Internet]. Stategic Intelligence. 2022 [cited 2022 Mar 28]. Available from: https://intelligence.weforum.org/topics/a1Gb00000038pGiEAI/publications/c759d33850e34db9ba18adbf504bd083
8. Sheather J, Slattery D. The great resignation—how do we support and retain staff already stretched to their limit? BMJ [Internet]. 2021 [cited 2022 Mar 24];375:n2533. Available from: https://www.bmj.com/content/375/bmj.n2533
9. Cox A. "The great resignation": Why are so many thinking about quitting? [Internet]. Hays [date unknown] [cited 2022 Mar 28]. Available from: https://www.hays.co.uk/blog/insights/the-great-resignation-why-are-so-many-thinking-about-quitting
10. Mearian L. The Great Resignation: Why workers quit (and how companies can respond) [Internet]. Computerworld. 2021 [cited 2022 Mar 19]. Available from: https://www.computerworld.com/article/3645496/the-great-resignation-why-workers-quit-and-how-companies-can-respond.html
11. Stillman J. These Are the Top 5 Reasons People Are Quitting During the Great Resignation, According to Massive New Research (Hint: None Of Them Is Pay) [Internet]. Inc.com. 2022 [cited 2022 Mar 19]. Available from: https://www.inc.com/jessica-stillman/great-resignation-mit-revelio-research.html
12. Makinson R. What Is Causing The Great Resignation? [Internet]. Finance Monthly | Monthly Finance News Magazine. 2021 [cited 2022 Mar 19]. Available from: https://www.finance-monthly.com/2021/11/what-is-causing-the-great-resignation/
13. Silber T. Is the Great Disengagement worse than the Great Resignation? [Internet]. Ragan's Workplace Wellness. 2021 [cited 2022 Mar 28]. Available from: https://raganwellness.com/is-the-great-disengagement-worse-than-the-great-resignation/
14. Future Forum Pulse. The great executive – employee disconnect [Internet]. 2021 [cited 2022 Mar 19]. Available from: https://futureforum.com/wp-content/uploads/2021/10/Future-Forum-Pulse-Report-October-2021.pdf
15. Gleason D. Knowledge Retention: How to Protect Your Competitive Advantage [Internet]. CXL. 2019 [cited 2022 Mar 19]. Available from: https://cxl.com/blog/knowledge-retention/
16. Beddington E. The great resignation is here! Seven things bosses should do to make brilliant staff stay [Internet]. The Guardian. 2021 [cited 2022 Mar 19]. Available from: https://www.theguardian.com/commentisfree/2021/nov/04/the-great-resignation-is-here-seven-things-bosses-should-do-to-make-brilliant-staff-stay